Rewined Candles - Green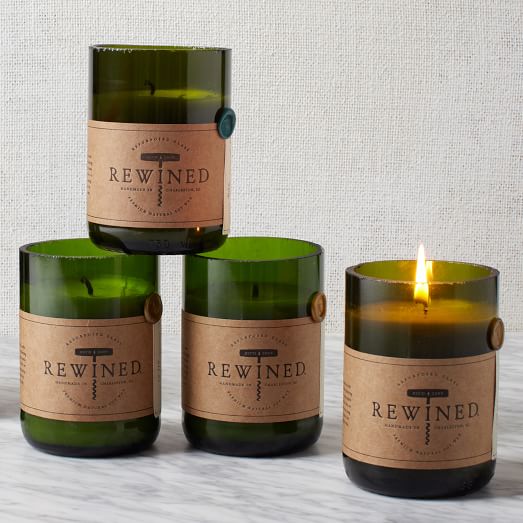 Overview
A treat for wine lovers. Handcrafted in Charleston, South Carolina, these Rewined Candles evoke your favorite vintage with their subtle wine-inspired appearance and aroma. To create them, all-natural soy wax is hand poured into vessels made of repurposed wine bottles.
11 oz.
100% fragrance-infused soy wax, cotton wick.
Vessels handcrafted of repurposed glass in a Green finish.
Wine-inspired scents; see Details + Dimensions for fragrance notes.
Burn time up to 80 hours.
Made in the USA.
Details + Dimensions
DETAILED SPECIFICATIONS
Overall product dimensions: 3.75"diam. x 4.75"h; 11 oz.
SCENT NOTES
Spiked Cider: This fall favorite offers a rich blend of fresh apple, cinnamon, and clove, with aromas of buttery dark rum.
Under the Tree: The scent of a fresh cut Christmas tree brings back some of our favorite holiday memories. Reminisce about your holiday memories and create new ones with our winter seasonal candle that offers inviting notes of blue spruce and a hint of bright citrus.
Sangria: This refreshing summer cocktail offers notes of ripe mandarin orange, juicy pineapple, lush cranberries and a dash of cinnamon.
Mimosa: The most festive of cocktails, with the effervescent flavors that remind us of the spring. Made from a classic recipe of champagne and fresh squeezed orange. Let these crisp aromatics awaken your sense.
Cabernet: While sampling this deep red varietal, look for rich aromas of black cherry and currant. Let the background notes of smoke and toast round out this bold red.
Champagne: This festive varietal evokes feelings of celebration and joy. Look for sweet notes of white grape, honey, fresh baked bread and light citrus.
Chardonnay: This rich, white varietal offers warm notes of vanilla, butter and burnt toast. Look for deep hazelnut and cedarwood undertones.
Merlot: As you enjoy this medium bodied varietal, let the bold aromas of violet and rose take hold. Pick up the scent of ripe pomegranate and plum followed by cool vanilla finish.
Pinot Grigio: In this smooth, clean white varietal look for smooth aroma of sandalwood and crisp minerality held together by a strong citrus backbone.
Pinot Noir: This early, complex wine mimics the ground that produces it. Fresh fig and cranberry, rooted by the rustic aromas of leather and violet, finishing with hints of musky earth tones.
Riesling: A sweet, lush varietal offering the scent of Asian pear, juicy tropical fruits, and ripe citrus. Look for subtle notes of honey and a light floral essence.
Sauvignon Blanc: A crisp and refreshing white varietal delivers clean herbal notes of basil and mint, followed by freshly mown grass and a hint of tart grapefruit.
Carmenere: This rare, deep violet varietal is rich with the aromas of blackberry and green pepper. Bold notes of Chilean spice are in perfect harmony with soft herbal tones and a black fruit finish.
CARE
Trim wicks to 1/4" and burn no longer than 4 hours at a time. Wipe clean.
Colors Available
dummy

Sangria

Mimosa

Champagne

Pinot Noir
Shipping + Return Info
SHIPPING INFORMATION
These items ship from our Distribution Center by UPS and arrive in your home within 4-5 business days of order receipt.

Shipping Rates
The shipping rate varies depending on your order total and shipping options. View Shipping Rates and Options

Next Day Delivery
For an extra charge of $17.50 per address, we can arrange for rush delivery to most destinations.

RETURN POLICY

We happily accept returns on stocked items within the time frames listed below. Products designated as special order (SPO) cannot be cancled or returned. All items on our website and in-store are considered 'stocked' unless expressly identified as 'special order' instead. Prior purchases are not eligible for price adjustments. Please familiarize yourself with our returns policy before placing your order.
Stocked Items: If you are dissatisfied with your purchase of a stocked item, you must exchange or return it within the following time frames for a full refund of the merchandise cost (delivery fees are non-refundable). Outside these time frames, we will replace or refund your purchase against manufacturer's defects ONLY. Please note that we cannot accept returns on gift cards or items damaged through normal wear and tear. We also cannot accept returns of final-sale items, which are identified by a price ending in .99 or .97.
Quick Ship upholstery items must be returned within 7 days of the order receipt date.
All other stocked products must be returned within 30 days of the order receipt date.
Special Order Items (SPO): Because they're custom made to your specifications, special order items may not be canceled or returned and are exchangeable against manufacturer's defects ONLY. SPO includes special order upholstery items, monogrammed/personalized items, special order rugs, one-of-a kind rugs and any products being shipped directly from a third-party vendor. Any special order items will be flagged as 'special order' in your shopping cart. NEW JERSEY CUSTOMERS: Special-order upholstered furniture returns are subject to applicable state law and are non-returnable after 24 hours of delivery.

For further assistance please call our customer service department at 1.888.922.4119 or send an email to customerservice@westelm.com
Rewined Candles - Green
Item
Price
White Glove Service
Rewined Candle, Syrah

$

29

$

0

Rewined Candle, Spiked Cider
No Longer Available
No Longer Available
Rewined Candle Under the Tree, Green
No Longer Available
No Longer Available
Rewined Candle, Sangria

$

29

$

0

Rewined Candle, Mimosa

$

29

$

0

Rewined Candle, Mimosa, Magnum

$

42

$

0

Rewined Candle, Soy Wax, Cabernet
No Longer Available
No Longer Available
Rewined Candle, Soy Wax, Champagne

$

29

$

0

Rewined Candle, Soy Wax, Chardonnay
No Longer Available
No Longer Available
Rewined Candle, Soy Wax, Merlot
No Longer Available
No Longer Available
Rewined Candle, Soy Wax, Pinot Grigio
No Longer Available
No Longer Available
Rewined Candle, Soy Wax, Pinot Noir

$

29

$

0

Rewined Candle, Soy Wax, Riesling
No Longer Available
No Longer Available
Rewined Candle, Soy Wax, Sauvignon Blanc
No Longer Available
No Longer Available
Rewined Candle Carmenere
No Longer Available
No Longer Available
Pricing may vary at time of purchase.
Product subject to availability. If you have any questions regarding this item(s), please call
1.888.922.4119
.