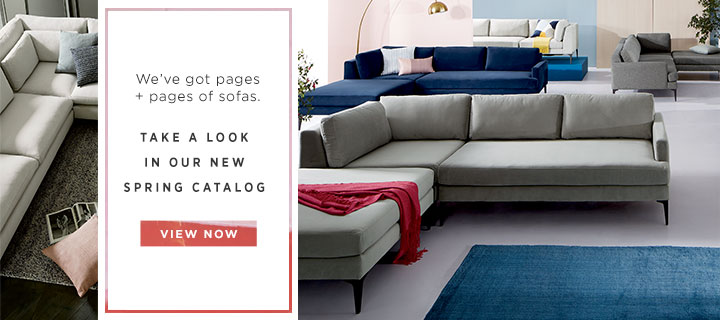 Andes Sofa (76.5")

$

1,299

–

$

1,599

Special

$

959

–

$

1,299

Beckham Sofa (76.25")

$

999

Special

$

699

–

$

799

Harmony Sofa (82")

$

1,599

–

$

1,999

Special

$

1,039

–

$

1,599

Urban Sofa (93.5")

$

1,699

–

$

1,999

Special

$

1,359

–

$

1,599

Sydney Sofa (75.5")

$

999

Special

$

699

Urban Leather Sofa (84.5")

$

1,999

Special

$

1,399

Axel Sofa (89")

$

1,499

–

$

1,799

Special

$

1,049

–

$

1,279

Brooklyn Leather Sofa (81")

$

2,799

Special

$

1,959

Roar + Rabbit Glamour Leather Sofa (60")

$

1,699

Special

$

1,189

Harmony Sofa (92")

$

1,399

–

$

2,099

Special

$

1,439

–

$

1,899

Paidge Sofa (72.5")

$

999

–

$

1,499

Special

$

799

–

$

1,499

Urban Sofa (84.5")

$

1,499

–

$

1,799

Special

$

1,199

–

$

1,599

Roar + Rabbit Glamour Velvet Sofa (60")

$

1,099

Mathias Mid-Century Wood Frame Leather Sofa (82.5")

$

1,699

Special

$

1,359

Harmony Loveseat (76")

$

1,279

–

$

1,799

Special

$

1,279

–

$

1,699

Hamilton Leather Sofa (81")

$

2,799

Special

$

1,959

Henry® Sofa (76")

New Colors
Everyday Value

$

799

–

$

1,199

Special

$

719

–

$

1,199

Axel Leather Sofa (89")

$

2,799

Special

$

1,959

–

$

2,239

Leon Wood Frame Sofa (82")

$

1,299

Special

$

1,039

Double Dream Sofa (83")

$

1,499

Special

$

1,200

–

$

1,499

Denmark Loveseat (66")

$

999

Sale

$

449.99

–

$

649.99

Esme Sofa (75")

$

999

Sale

$

499.99

–

$

699.99

Eddy Sofa (82")

$

799

–

$

1,399

Antwerp Sofa (89")

$

1,299

–

$

1,899

Special

$

1,039

–

$

1,899

Lola Sofa (76")

$

1,299

Special

$

909

–

$

1,039

Hamilton Sofa (81")

$

1,099

–

$

1,699

Special

$

879

–

$

1,359

Henry® Leather Sofa (76")

$

1,999

Monroe Mid-Century Sofa (80")

$

1,299

–

$

1,699

Special

$

909

–

$

1,359

Shelter Sofa (84")

$

1,299

–

$

1,699

Sale

$

899.99

–

$

1,599

Denmark Leather Loveseat (66")

$

1,699

Special

$

1,359

Brooklyn Upholstered Sofa

$

1,499

Special

$

1,199

Mathias Mid-Century Wood Frame Leather Loveseat (66")

$

1,499

Special

$

1,049

–

$

1,199

Mathias Mid-Century Wood Frame Loveseat (66")

$

999

Sale

$

749.99

Dekalb Sofa (85")

$

1,249

–

$

1,549

Special

$

999

–

$

1,239

Retro Tillary® Sofa (77")

$

999

–

$

2,598

Special

$

699

–

$

1,998

Tillary® Sofa (74.5")

$

999

–

$

1,299

Special

$

799

–

$

1,079

Tillary® Tufted Sofa (74.5")

$

1,199

–

$

1,349

Special

$

959

–

$

1,119

Monroe Mid-Century Leather Sofa (80")

$

2,799

Special

$

2,239

Modern Chesterfield Leather Sofa (79")

$

2,799

Crosby Sofa (80")

$

1,249

–

$

1,549

Special

$

999

–

$

1,239

Goncourt Sofa (148")

$

4,998

Special

$

3,998

Kiko Futon Sofa (82")

$

899

Special

$

629

–

$

719

Mid-Century Futon Sofa

$

999

Special

$

799

Finn Sofa (75")

$

999

–

$

1,199

Special

$

799

–

$

999

Billie Sofa (75")

$

799

Bliss Sofa (79.5")

$

1,299

–

$

1,599

Special

$

1,039

–

$

1,279

Rochester Sofa (82")

$

999

–

$

1,399

Special

$

799

–

$

1,119

Everett Sofa (76")

$

1,199

–

$

1,499

Special

$

959

–

$

1,399

Walton Sofa (84")

$

1,099

–

$

1,299

Special

$

879

–

$

1,039

Dunham Box Cushion Sofa (84")

$

1,699

Modern Arm Sofa (92")

$

1,999

Special

$

1,599

Esch Sofa (84")

Collection
Sustainably Sourced
Handcrafted

$

3,699

–

$

3,799

Esch Leather Sofa (84")

Collection
Sustainably Sourced
Handcrafted

$

8,999

Origami Leather Sofa (83")

$

3,999

Origami Sofa (83")

Collection
Handcrafted
Online Only

$

2,499

Breda Leather Sofa (96")

Collection
Sustainably Sourced
Handcrafted

$

8,999

Breda Sofa (96")

Collection
Sustainably Sourced
Handcrafted

$

3,999

–

$

4,099

Marco Sofa (77")

$

1,299

–

$

1,499

Special

$

1,039

–

$

1,199

Jackson Sofa (88")

$

1,699

–

$

2,039

Special

$

1,359

–

$

2,039

Commune Armless Sofa (60.5")

$

999

Sale

$

499.99

Henry® Power Recliner Sofa (77")

$

1,999

Henry® Leather Power Recliner Sofa (77")

$

2,999

Emery Sofa + Daybed + Trundle

New
Online Only
Everyday Value

$

1,999

Henry® Deluxe Sleeper Sofa - Queen

New Colors
Everyday Value

$

2,999

–

$

3,399

Special

$

2,479

–

$

3,399

Henry® Basic Sleeper Sofa

New Colors
Everyday Value

$

1,299

–

$

1,699

Special

$

1,039

–

$

1,699

Henry® Pull-Down Sleeper Sofa - Full

$

1,699

Sale

$

1,349.99

–

$

1,699

Henry® Basic Sleeper Sofa - Twin

New Colors
Everyday Value

$

1,299

–

$

1,499

Special

$

1,039

–

$

1,499

Shelter Sleeper Sofa

$

1,899

–

$

2,199

Special

$

1,519

–

$

1,759

Bliss Sleeper Sofa

$

1,999

–

$

2,299

Special

$

1,599

–

$

2,099

Rochester Sleeper Sofa

$

1,499

–

$

1,799

Special

$

1,199

–

$

1,439

Paidge Sleeper Sofa

$

1,799

–

$

2,099

Special

$

1,439

–

$

1,679

Monroe Mid-Century Chaise Lounger

$

1,099

–

$

1,399

Special

$

879

–

$

1,119

Bliss Down-Filled Chaise

$

1,099

–

$

1,399

Special

$

879

–

$

1,119

Upholstered Nailhead Double Chaise

$

1,999

Special

$

1,599

Paidge Sofa (86.5")

$

1,399

–

$

1,699

Special

$

1,119

–

$

1,699

Finn Sofa (83.5")

$

1,099

–

$

1,299

Special

$

879

–

$

1,299

Henry® Sofa (96")

New Colors
Everyday Value

$

1,249

–

$

1,549

Special

$

1,079

–

$

1,549

Andes Sofa (76.5")

$

1,299

Special

$

1,039

Antwerp Loveseat (76")

$

1,299

–

$

1,599

Special

$

909

–

$

1,599

Antwerp Loveseat (76")

$

1,299

Special

$

1,039

Antwerp Sofa (89")

$

1,499

Special

$

1,199

Axel Leather Loveseat (60.5")

$

2,199

Special

$

1,759

Bliss Loveseat (69.5")

$

1,199

–

$

1,399

Special

$

959

–

$

1,119

Bliss Sofa (91.5")

$

1,499

–

$

1,699

Special

$

1,199

–

$

1,359

Brooklyn Leather Loveseat (66.5")

$

2,199

Special

$

1,759

Crosby Sofa (92")

$

1,349

–

$

1,699

Special

$

1,079

–

$

1,699

Crosby Loveseat (67")

$

1,149

–

$

1,449

Special

$

919

–

$

1,159

Crosby Sofa (80")

$

1,299

Special

$

1,039

Eddy Loveseat (74")

$

699

–

$

1,299

Elton Settee (57.5")

$

599

–

$

999

Special

$

559

–

$

799

Everett Sofa (86")

$

1,399

–

$

1,699

Special

$

1,119

–

$

1,549

Everett Loveseat (60")

$

799

–

$

1,099

Special

$

639

–

$

879

Finn Loveseat (60.5")

$

899

–

$

1,099

Special

$

719

–

$

999

Finn Sofa (75")

$

1,099

Special

$

879

Henry® Loveseat (66")

New Colors
Everyday Value

$

799

–

$

1,099

Special

$

639

–

$

1,099

Henry® Sofa (76")

Handcrafted
New Colors
Everyday Value

$

799

–

$

999

Jackson Loveseat (68")

$

1,499

–

$

1,799

Special

$

1,199

–

$

1,439

Leon Wood Frame Loveseat (68")

$

999

Special

$

799

Marco Loveseat (64")

$

1,199

–

$

1,399

Special

$

959

–

$

1,119

Monroe Mid-Century Sofa (90.5")

$

1,499

–

$

1,799

Special

$

1,199

–

$

1,439

Monroe Mid-Century Sofa (80")

$

1,299

Special

$

909

Retro Tillary® Sofa (77")

$

999

Special

$

699

Rochester Loveseat (67.5")

$

999

–

$

1,299

Special

$

799

–

$

1,039

Rochester Sofa (82")

$

999

Special

$

799

Shelter Sofa (92")

$

1,599

–

$

1,899

Special

$

1,279

–

$

1,519

Shelter Loveseat (72")

$

1,299

–

$

1,599

Special

$

1,039

–

$

1,599

Shelter Sofa (84")

$

1,299

–

$

1,499

Sale

$

899.99

–

$

1,359

Sutton Sofette (56")

$

599

–

$

1,199

Special

$

559

–

$

1,039

Urban Leather Loveseat (73")

$

1,799

Sale

$

1,199.99

Urban Loveseat (73")

$

1,399

–

$

1,699

Special

$

1,119

–

$

1,359

Urban Sofa (84.5")

$

1,499

Special

$

1,199

Axel Sofa (76")

$

1,299

Special

$

799

Henry® Sofa (86")

New Colors
Everyday Value

$

999

–

$

1,399

Sale

$

949.99

–

$

1,399

Rochester Sofa (92")

$

1,299

–

$

1,599

Special

$

1,039

–

$

1,399
Modern Sofas & Loveseats
Modern sofas and loveseats serve the basic function of providing comfortable seating in your home, but they're also more than that. Sofas are one of your biggest furniture investments in any size home, be it a one-room apartment or a multilevel mansion. This is why you are undoubtedly choosing one with care. There may seem to be countless options to choose from where sofas and loveseats are concerned, but we take a lot of the guesswork out of the decision making process with helpful information. When you browse the sofa collection at west elm, you are able to enjoy a variety of options in terms of styles, colors, shapes and fabric with detailed descriptions that outline the benefits of each.
Let's complement that by offering some advice and basic guidelines. Before you start hunting for a sofa, it is important to consider what function you want it to serve. While some modern sofas offer you a comfortable place to relax and put your feet up, others help give your living room a very chic look. You also have the option of selecting sleeper sofas that help you maximize the space available to you. By using these sofas, you are able to turn your living room into a guest room easily. If you have very limited space or are in the habit of entertaining often, then a sleeper sofa is the best choice for you.
It is also equally important to think about the fabric when you are buying sofas and loveseats. Depending upon what suits the style of your home, consider selecting an easy-to-care-for velvet covering to something more durable, such as leather. If you are thinking of redecorating or just changing the room color, then the best option for you is a neutral sofa, which acts like a blank canvas and blends with any decor. Add a bit of color to the neutral modern sofas by encasing existing pillows in our upholstery fabric pillow covers. Another option for decorating a neutral-colored space is to add a colorful sofa that becomes the centerpiece of the room.
If you are going for a more sophisticated look, choose one of our mid-century modern sofas. The streamlined form is what is unique about these sofas, and they are ideal when a simple yet sophisticated look is what you are seeking. Their solid, sturdy legs and the straight and crisp lines are what set them apart from the other sofas. Leather sofas are your best bet when you are looking for something that is long lasting and wears well with age. They also come in different colors and are easy to maintain. If you favor leather, consider decorating your entire living room with it. Our leather upholstery collection features top-quality premium leather and is bound to make a statement in any room.
If you are looking for a place to cozy up with your loved one, then our collection of loveseats offers you both the intimacy as well as comfort without compromising on style. Based on your preference, choose a loveseat with two individual cushions or one with just a single bench cushion. Arm yourself with a couple of pillows and one of our throws and you are in for an extremely cozy movie night on the loveseat.
For those consumers who are you in a hurry and want fast seating options, we have the ideal solution. With our Quick Ship Sofas, we promise to deliver the modern sofas and loveseats chosen by you in two to four weeks. Don't wait to transform your home when doing so only takes a couple of weeks and is done to your high standards.