Globe Pendant - Antique Brass/Milk Finish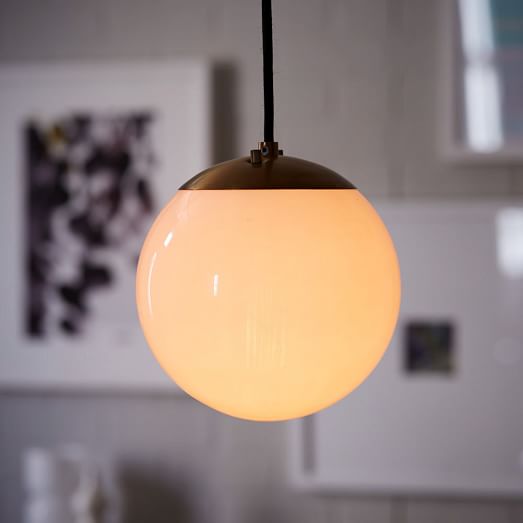 Overview
Our Globe Pendants light up your world in glass and gleaming metal. They work well as single pendants, but they're especially head-turning when hung in pairs or multiples at different heights.
Plated metal base.
Glass globe in a Milk finish.
Fabric-wrapped cord.
Hardwired.
Imported.
Details + Dimensions
DETAILED SPECIFICATIONS
Small Globe: 8"diam. x 8"h.
Medium Globe: 11"diam. x 11"h.
Large Globe: 14"diam. x 14"h.
Ceiling plate: 5"diam. x 1"h.
Cord length: 116"l (adjustable upward).
Accommodates a 13W CFL bulb or a 60W incandescent bulb (not included).
ASSEMBLY INSTRUCTIONS
Hardwired. Professional installation recommended.
CARE
Wipe clean.
Colors Available
Antique Brass

Antique Bronze
Shipping + Return Info
SHIPPING INFORMATION
These items ship from our Distribution Center by UPS and arrive in your home within 4-5 business days of order receipt.

Shipping Rates
The shipping rate varies depending on your order total and shipping options. View Shipping Rates and Options

Next Day Delivery
For an extra charge of $17.50 per address, we can arrange for rush delivery to most destinations.

RETURN POLICY

We happily accept returns on stocked items within the time frames listed below. Products designated as special order (SPO) cannot be cancled or returned. All items on our website and in-store are considered 'stocked' unless expressly identified as 'special order' instead. Prior purchases are not eligible for price adjustments. Please familiarize yourself with our returns policy before placing your order.
Stocked Items: If you are dissatisfied with your purchase of a stocked item, you must exchange or return it within the following time frames for a full refund of the merchandise cost (delivery fees are non-refundable). Outside these time frames, we will replace or refund your purchase against manufacturer's defects ONLY. Please note that we cannot accept returns on gift cards or items damaged through normal wear and tear. We also cannot accept returns of final-sale items, which are identified by a price ending in .99 or .97.
Quick Ship upholstery items must be returned within 7 days of the order receipt date.
All other stocked products must be returned within 30 days of the order receipt date.
Special Order Items (SPO): Because they're custom made to your specifications, special order items may not be canceled or returned and are exchangeable against manufacturer's defects ONLY. SPO includes special order upholstery items, monogrammed/personalized items, special order rugs, one-of-a kind rugs and any products being shipped directly from a third-party vendor. Any special order items will be flagged as 'special order' in your shopping cart. NEW JERSEY CUSTOMERS: Special-order upholstered furniture returns are subject to applicable state law and are non-returnable after 24 hours of delivery.

For further assistance please call our customer service department at 1.888.922.4119 or send an email to customerservice@westelm.com
Globe Pendant - Antique Brass/Milk Finish
Item
Price
White Glove Service
Globe Pendant, 8", Milk Glass

$

89

$

0

Globe Pendant, 11", Milk

$

119

$

0

Globe Pendant Large, 14", Milk

$

149

Special

$

104

$

0

Globe Pendant: 8" Set Of 2: Milk Glass

$

179

$

0

Globe Pendant, 11", Milk, Set of 2

$

238

$

0

Globe Pendant, Large, Milk, 14", Set of 2

$

298

Special

$

208

$

0

Globe Pendant: 8" Set Of 3: Milk Glass

$

259

$

0

Globe Pendant, 11", Milk, Set of 3

$

357

$

0

Globe Pendant, 14", Antique Bronze/Milk, Set of 3

$

447

Special

$

312

$

0
Pricing may vary at time of purchase.
Product subject to availability. If you have any questions regarding this item(s), please call
1.888.922.4119
.