Scoop-Back Bar Stool + Counter Stool - Chocolate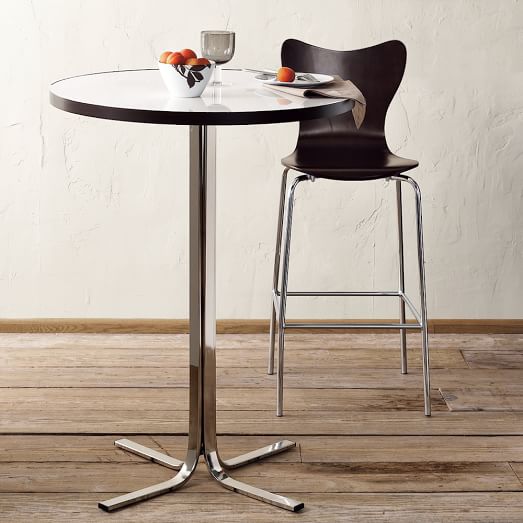 Overview
What's the scoop? Playful and particularly adaptable, the comfortable curves of this popular, crowd-pleasing stool are a fun and easy match with any number of decorating styles.
Bentwood body in chocolate; chrome-plated iron base and legs.
Front edge of seat curves down for increased comfort at the knee.
Minimal assembly required.
Wipe clean.
Imported.
Select items are online/catalog only.
Details + Dimensions
DETAILED SPECIFICATIONS
BAR STOOL
Overall product dimensions: 18.5"w x 21"d x 43" h.
Seat height: 30".
Floor to foot rest: 12".
COUNTER STOOL
Overall product dimensions: 18.5" x 20.5"d x 39.5"h.
Seat height: 26".
Floor to foot rest: 8.5".
ASSEMBLY INSTRUCTIONS
CARE
Wipe clean with a damp cloth. Hardware may loosen over time. Periodically check that all connections are tight. Wipe with a soft, dry cloth. To protect finish, avoid the use of chemicals and household cleaners.
Rust prevention: Soak parts in 9:1 warm water to nitric acid solution for up to 1 hour or wash thoroughly with water. Wet the surface with oxalic acid solution and leave it for approximately 20 minutes. Rinse well with cold water and wipe dry.
Shipping + Return Info
DELIVERY INFORMATION

Most purchases are shipped from our Distribution Center by UPS, arriving in 4-5 business days.
Quick Ship fabric items receive delivery in 2 - 4 weeks.
Special order fabric (SPO) items receive delivery in 8 -10 weeks.
For our guide to measuring for delivery click here.
SHIPPING RATES
The shipping rate varies depending on your order total and shipping options. Please note, some furniture, rugs and other large items that are bulky or heavy items have a delivery surcharge listed in parentheses ($) after the item price. These delivery surcharges are in addition to the standard delivery shipping charges. View Shipping Rates and Options


RETURN POLICY
We happily accept returns on stocked items within the time frames listed below. Products designated as special order (SPO) cannot be canceled or returned. All items on our website and in-store are considered 'stocked' unless expressly identified as 'special order' instead. Prior purchases are not eligible for price adjustments. Please familiarize yourself with our returns policy before placing your order.
Stocked Items: If you are dissatisfied with your purchase of a stocked item, you must exchange or return it within the following time frames for a full refund of the merchandise cost (delivery fees are non-refundable). Outside these time frames, we will replace or refund your purchase against manufacturer's defects ONLY. Please note that we cannot accept returns on gift cards or items damaged through normal wear and tear. We also cannot accept returns of final-sale items, which are identified by a price ending in .99 or .97.
Quick Ship upholstery items must be returned within 7 days of the order receipt date.
All other stocked products must be returned within 30 days of the order receipt date.
Special Order Items (SPO): Because they're custom made to your specifications, special order items may not be canceled or returned and are exchangeable against manufacturer's defects ONLY. SPO includes special order upholstery items, monogrammed/personalized items, special order rugs, one-of-a kind rugs and any products being shipped directly from a third-party vendor. Any special order items will be flagged as 'special order' in your shopping cart. NEW JERSEY CUSTOMERS: Special-order upholstered furniture returns are subject to applicable state law and are non-returnable after 24 hours of delivery.

For further assistance please call our customer service department at 1.888.922.4119 or send an email to customerservice@westelm.com
Scoop-Back Bar Stool + Counter Stool - Chocolate
| Item | Price |
| --- | --- |
| Scoop-Back Counterstool, Chocolate | No Longer Available |
| Scoop-Back Counterstool, Chocolate, Set of 2 | No Longer Available |
| Scoop-Back Bar Stool, Chocolate | No Longer Available |
| Scoop-Back Bar Stool Chocolate, Set of 2 | No Longer Available |
Pricing may vary at time of purchase.
Product subject to availability. If you have any questions regarding this item(s), please call
1.888.922.4119
.